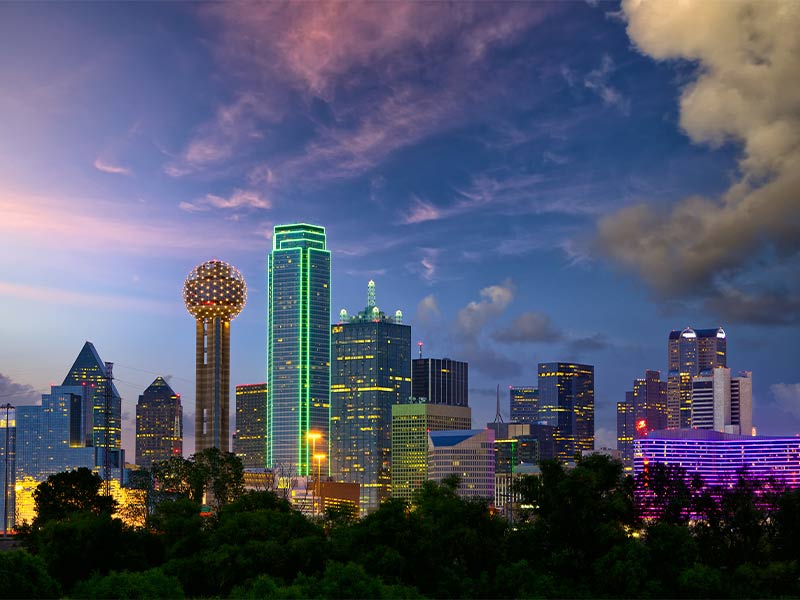 Full-Service Electrical Contractors in Dallas/Fort Worth
E-MC Electrical began offering commercial electric and energy services to the businesses of Dallas / Fort Worth, Texas, and the surrounding areas in 1977, when Gerald McDonald first opened his electrical contracting businessGerald McDonald opened thiscompany to fulfill his dream of providing unparalleled commercial electrical services.
Gerald completed training as an electrician through a local apprenticeship program, where he eventually became a master electrician. Through E-MC Electrical, he has provided electrical services to various businesses, such as American Airlines, Alcon Laboratories, DFW Airport, Dannon Yogurt, GSA, and the Veterans Administration.
E-MC Electrical quickly set itself apart due to its knowledgeable team that adapted to the varying electrical needs of different markets. Our team has solutions for each industry–from processing plants to restaurants and entertainment venues–that help them meet their unique challenges. Our team continues our legacy by providing excellent customer service, using the latest technological advancements, and employing green energy solutions.
E-MC Electrical's Mission Statement
We aim to be an accomplished leader in the electrical and special systems industry by providing superior service for quality-conscious customers.
We Are
Available: We are always present to support our client's needs.
Personalized: We believe in building personal relationships with our clients to understand their unique requirements.
Rapid: We promptly answer all calls and inquiries to ensure efficient communication.
On Time: We deliver projects on time so our clients meet their deadlines.
Budget Conscious: We are committed to completing projects within budget without sacrificing quality.
Get to Know Our Team
Principal Officer and Owner: Gerald McDonald

Master Electrician
Chairman

CEO: Spencer McDonald

BBA in Finance from Texas A&M University

Director of Construction: Dan Woodson
Operations Manager: Lee Mitchell

Experience:

40 years in the electrical industry
Manager, Facility Engineering at American Airlines for 28 years

Certifications:

Industrial Electrical Certification-TSTI
Journeyman Electrical License
Experts in Commercial Electric Services in Texas Since 1947
Traditional electrical contracting and service
Aviation
Pharmaceutical
Food and beverage
Building automation systems
Lighting technologies
Traditional Energy sector services
Fire Alarm Systems
EV chargers
Solar
Past Projects
FedEx at FedEx Fort Worth Alliance Airport
Career High School
American Airlines
Alcon (Alcon Blg G.)
Titan (Titan Compressor Station)
Grand Prairie Independent School District
Exchange (Army & Air Force Exchange Service)
Multiple Federal Courthouse Fire Alarm System replacements
NAICS Codes
Industrial Building Construction
236220 – Commercial and Industrial Building Construction
237110 – Water and Sewer line Related Structures Construction
237120 – Oil and Gas Pipeline and Related Structures Construction
237130 – Solar Power Structure Construction
238210 – Electrical Contractors and Other Wiring Installation Contractors
238220 – Plumbing, Heating, and Air Conditioning Contractors
238990 – All Other Specialty Trade Contractors
423610 – Electrical Equipment and Wiring Supplies
423730 – Wholesaler Air Conditioning Equipment and Supplies
561621 – Security Systems Services (Except Locksmith)
Your Leading Commercial Electrical Experts
E-MC Electrical is a full-service electrical contractor serving customers statewide. Our expertise includes traditional contracting and service, aviation facilities, pharmaceutical facilities, food and beverage processing facilities, building automation systems, lighting technologies, traditional energy sector services, fire alarm systems, and EV chargers, and solar. This allows us to maintain a customer base of the area's largest corporations in the industrial, commercial, and oil and gas markets.
We are proud to serve our community by providing essential electrical services to the businesses of Dallas / Fort Worth, Texas, and the surrounding areas. We have you covered if your business needs a new electrical installation, fire alarm services, or an update to your existing electrical system. Contact our electricians today for more information or to schedule an appointment!