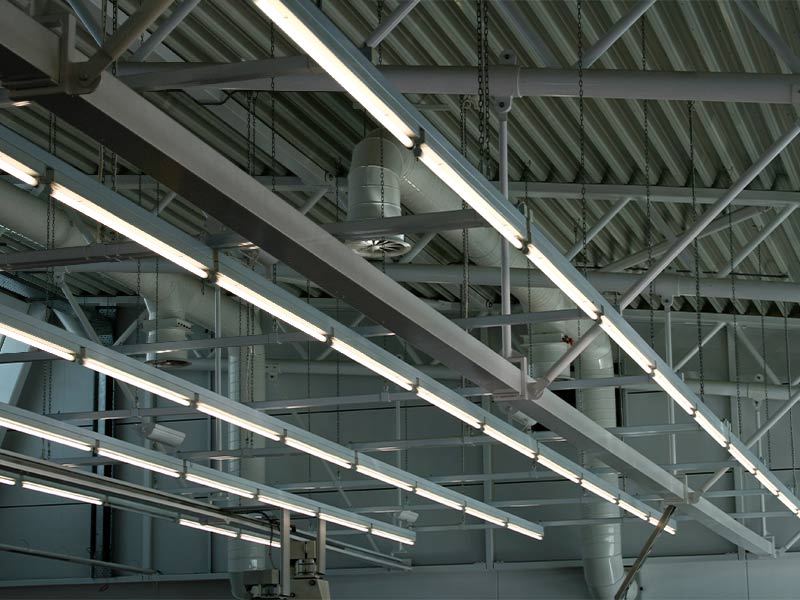 Commercial Electrical Services
Business owners and facility managers rely on their buildings being equipped with the proper electrical wiring to ensure the success of their day-to-day operations. E-MC Electrical has set itself apart as the trusted resource for the business of Kennedale, Texas, and the surrounding areas for all of its electrical needs. From new construction electrical installations to lighting installation, we deliver incredible services to ensure that your business never misses a step.
Since our founding in 1977, E-MC Electrical has created a close connection to our community. We proudly serve both small and large commercial businesses, ensuring that they get the electricity they need to succeed. We know how stressful it can be when the power suddenly goes out or when your current setup isn't providing you with the power and lighting necessary for your team to stay productive.. That is why our team provides quick and reliable services. Here is an overview of what our electrical technicians have to offer for your commercial business.
Types of Electrical Services for Commercial Properties
E-MC Electrical proudly offers the following services to our commercial clients in Kennedale, Texas, and the surrounding areas.
New Electrical Systems
Whether you are building a new structure for your commercial business or renovating an older one, you will want an experienced electrician to ensure that your power wiring, lighting, and system are hooked up properly. Improper electrical system installations can lead to a slew of issues, including outlets not working properly, lights switching improperly, and safety issues such as the increased risk of electrocution. Our electricians have years of experience under their belts and go through ongoing training to ensure that they are up to date with the best and safest practices for new construction and renovation electrical installations.
We have a great reputation with many of the construction companies and architects in the Kennedale, Texas area. With this great working relationship, we can provide incredible services to all our clients by working together with these teams to provide a gorgeous commercial building with electrical and lighting systems that are installed correctly to handle anything.
Commercial Electrical Diagnosis and Repair
The first step for most commercial emergency repairs, power restorations, and general maintenance checks is to perform an electrical diagnostic inspection. This diagnostic check allows our team to get a thorough understanding of what is happening with your electrical system so they can determine the best course of action. Our technicians have years of experience troubleshooting and detecting electrical errors within the complex structure and components of commercial and industrial building's electrical systems.
Electrical issues and faults can happen in both new and older buildings. If you notice recurring electrical issues within your commercial building, contact E-MC Electric for an electrical diagnostic inspection.
Once we complete the inspection and identify the electrical issues, we will begin to address and resolve them.
What Are Signs That My Commercial Electrical System Is Having Issues?
You can look out for the following signs to spot issues with a commercial building's electrical system:
Circuit breaker trips
Dips in power
Light switches suddenly not working
Sparking electrical outlets
Electrical Repairs and Maintenance Services
As with all things over time, your electrical system will need maintenance services and repairs. Allow the experts at E-MC to inspect your system and provide you with comprehensive maintenance and repairs that ensure the health of your system and protect against future electrical issues.
We also offer repair services for electrical systems that may have been damaged due to the following disasters:
Thunderstorms
Snowstorms
Fire
Commercial Lighting Installation and Setup
Whether you are a new commercial building or looking to update your current setup, the team at E-MC Electrical can help. If you are unsure what type of lighting will work best for your business's situation, our electricians can provide you with recommendations. Whether you are lighting for an office building to promote better productivity or you want the perfect lighting for your retail store to make your products shine, we have the solutions for you.
Commercial Generator Installation
Texas is known for its severe thunderstorms. These incredible storms can knock the power out without warning, leaving your commercial business in the dark. For some businesses, these outages can mean disaster. Data centers, hospitals, and corporate facilities can significantly benefit from having a generator installed. These generators will swich on within seconds of the blackout, ensuring that lights stay on so that you facility can continue operations with as little disruption to services as possible.. Don't allow a storm to steal your revenue. Contact E-MC Electrical today for more information on our commercial generator installation services.
Commercial Electrical Installation
E-MC Electrical offers unparalleled commercial electrical installation services for the business of Kennedale, Texas. Our electricians have completed many new electrical installations for Aviation, pharmaceutical, industrial plants, and federal facilities. We handle everything from installing electrical panels, lighting, power for outlets, transformers, generators, and any other electrical equipment that your team may need.
The installation process for a commercial business requires a lot of planning to ensure that the layout of the electrical system works with the design of the building. The electrical company you work with needs to understand the specific needs and requirements of that building while ensuring safety and compliance with all electrical codes and regulations. With years of experience under our belt, the team at E-MC Electrical has the experience and knowledge to ensure that the job is done right and designed to prevent future electrical issues. We offer a variety of commercial electrical installations including the following:
Lighting Installation: We install the lighting systems throughout your entire building, including overhead lights, task lights, and emergency lighting.
Power Installation: Our electricians install the power distribution system throughout your building, such as the electrical panels, outlets, and wiring.
HVAC Electrical Installation: This type of electrical installation involves providing power for your commercial HVAC system. This can also include thermostats andcontrol systemsfor the unit.
Fire Alarm Installation: This involves designing and installing the fire alarm system throughout the building.
Renewable Energy Installation: If your business is planning to go green, E-MC Electrical can install solar panels and other renewable energy sources to ensure that enough electricity is generated for your entire building.
Electrical System Maintenance
As with all systems in your commercial business, your electrical system will need routine maintenance to ensure that it works at its best and to prevent dangerous issues from developing. Electrical maintenance involves the routine inspection, testing, and repairs of your electrical system. Having this process done at least once every three years can ensure that there are no expensive breakdowns or major power losses and prevent electrical fires. Our team performs the inspection and maintenance of the following parts of your electrical system:
Electrical connections
Power outlets
Electrical components for HVAC units
Electrical board and circuit breakers
If our electricians find any signs of your system having issues, we will address them right away.
Commercial Electrical Upgrades
Upgrading your electrical system is a necessary process that improves both the safety and utility of your building. Several signs can indicate your building needs an upgrade, including:
There doesn't seem to be enough power to run everything.
Your lights flicker when your business runs larger appliances such as an AC unit.
The equipment randomly shuts down for no reason.
You have to run extension cords between different circuits in an attempt to balance the electrical load.
Your breakers are frequently tripped.
Your breakers fail and don't trip when they should, causing equipment to overheat.
Your electrical panel or wiring contacts show signs of corrosion or deterioration.
You are planning to renovate your building or bring in new equipment that will add to your system's load.
The electricians at E-MC Electrical will work with you to learn the electrical needs of your business and help you come up with a plan to better meet those needs. We will make note of areas that may need more electrical outlets and better lighting as well as places where you want to add more equipment. We will then calculate the total electrical load of your building and offer suggestions on additional upgrades needed to protect your electrical systems, such as an additional circuit breaker or subpanel.
Electrical Safety and Security
Every business should have safety and security systems in place to protect their commercial buildings and the individuals inside them. Emergencies can arise at any moment, which is why it is so important to have these measures in place to keep everyone safe.
E-MC Electrical installs the following systems to keep you, your business, and your employees safe:
Fire Alarm Installation: This includes important systems such as fire alarms, smoke alarms, CO2 detectors, CO alarms, and combo units.
Emergency Lighting: During power outages or electrical system malfunctions, emergency lights allow employees and customers to see and safely evacuate. Emergency lighting is backed by a battery-powered system to ensure that the lights can remain on even when the power isn't.
Surge Protection Systems: A commercial electrical surge protection system can be installed for the entire building to protect your equipment from a power surge. This system will protect the following:

Appliances
Electronics
Computer systems
Wiring
Lighting
Commercial Specialty Lighting
Lighting is an extremely important part of any commercial building. E-MC Electric offers commercial specialty lighting to ensure that all aspects of your commercial building's lighting are designed to boost productivity and put your business in the best light. We offer a wide range of energy-efficient lighting solutions. All our fixtures and wiring are up to code. We also offer recessed lighting installation. Contact our team today for more information.
Knowledge-Commitment-Experience Matters for Your Commercial Electrical Services
E-MC Electrical takes great pride in providing commercial electrical services to the businesses of Kennedale, Texas, and the surrounding areas. We are a full-service, independent electrical contractor with highly skilled and experienced electricians who specialize in industrial and commercial electrical systems. Most of our project managers and job superintendents have more than 25 years of electrical experience, making us industry experts. We are not afraid to take on large corporate clientele as well as smaller commercial businesses. No matter the size or the usage of your facility, E-MC Electrical is a smart choice. Contact our team to schedule commercial electrical services or your next electrical system diagnostic inspection.
Commercial Electrical Services FAQs
What Is the Most Common Electrical Service for Small Commercial Businesses?
The most common electrical service for small commercial businesses is called single-phase. This is an electrical service configuration that provides 120/240v or 120 volts for the lights and the outlets and 240 volts for larger energy-using appliances.
What Is the Difference Between Commercial and Domestic Electrical?
Domestic electrical generally involves installing electricity or electrical appliances, writing for lights, and repairing electrical systems inside of a home. Commercial electrical involves small, large, and industrial electrical services that need a higher power load. These businesses often are running multiple pieces of equipment at one time, such as medical equipment for hospitals or electronic payment systems for shopping centers. Conductors for a commercial business can carry 120V to 480V whereas a residential building typically ranges between 120V-240V.
What Defines a Commercial Electrician?
A commercial electrician is a specialist who installs, repairs, and updates electrical systems and other electrical components, such as transformers or connecting large HVAC systems, and large uninterruptible power supply (UPS) systems, for commercial buildings. They require special training and licensing in order to do this type of work.