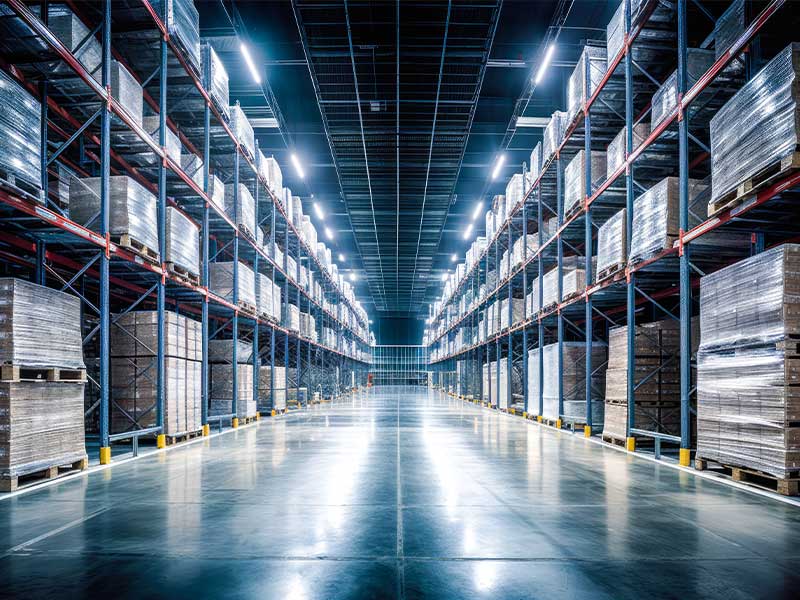 Commercial Lighting Products and Services
The lights in your building play an important role in your business. Lighting can make a world of difference, whether it is providing valuable light to your employees so they can see what they are doing, boosting productivity, or shining a spotlight on what your business offers. At E-MC Electrical, our team specializes in installing new commercial lighting and improving or upgrading your current lighting setup. We offer complete commercial lighting solutions, from helping you design the perfect lighting layout and choosing the best lights for your building to installation and maintenance.
Lighting Technologies
We understand our client's ultimate goal is to present an inviting, engaging, and stimulating environment designed to result in a return on their investment. Utilizing industry-leading products from manufacturers like, WattStopper, nLight, and other leading brands, E-MC Electrical helps your business achieve that goal. Whether it's the exterior facade or the interior environment, we have the right selection of lighting, power distribution, and control products, as well as a dedicated building integration division specializing in commercial applications intended to maximize aesthetic and performance criteria.
Upgrade Your Existing Commercial Lighting
Still stuck under the horrific yellow wash of incandescent or fluorescent lights? Stop washing out your products or making your employees' eyes hurt, and instead, upgrade your lighting system to LEDs with E-MC Electrical. Our team can help you save money and improve worker performance by upgrading your current lighting system to a more modern option. There are many reasons to switch! Here are some of the benefits you can expect from upgrading your commercial lighting system!
Save Money on Your Business's Electricity Costs
Replacing your outdated commercial lighting with modern LED options will allow your business to save money on energy costs. LED lighting is ten times more efficient than incandescent and fluorescent lights. LED lights do not produce heat like incandescent and fluorescent lights, which allows them to utilize most of the energy instead of it being wasted. This leads to lights that burn less energy, require less maintenance, and have a much longer lifespan.
Possibility of Rebates and Incentives
Most local power companies will pay businesses to have their lighting upgraded as it helps them out when businesses use less energy. This is due to city and state-wide mandates that are calling for a decrease in power usage to aid in preserving our natural environment. Power utilities across the United States are creating lighting rebate programs to encourage commercial businesses to use less energy. These energy efficiency programs are unique to each area, so contact your local power company to find out if these rebates will apply to your lighting upgrade and how much you can save.
Increase in Worker Productivity
Dim yellow lighting that comes from incandescent and fluorescent lighting can cause eye strain and headaches. This leads to lower productivity from your workers as they struggle to get through the workday. LED lighting can aid in this as it mimics daylight, allowing the brain to react as if they were working outside. This helps them see better, increases mental performance and reduces the risk of headaches, and aids in boosting morale. Invest in the well-being of your employees by making the upgrade to LED lighting today!
New Facilities Lighting
E-MC Electrical is Kennedale, Texas, and the surrounding area's, premier electrical contractor and professional commercial lighting services provider. We offer the following new facility lighting services:
Hallway Lighting
Common Area Lighting
Security Lighting
Warehouse Lighting
Exit and Emergency Lighting
Aesthetic Lighting
Accent Lighting
Parking Area Lighting
String Lighting
Lighting Services and Solutions
E-MC Electrical has over 25 years of experience in the industry, providing unparalleled commercial lighting services. We help present your facilities in their best light by providing the following commercial lighting services and solutions:
Lighting Products
Our electricians utilize products from industry-leading manufacturers such as, WattStopper, and nLight. Here is a quick overview of these incredible brands:
WattStopper: WattStopper's line of lighting products offers a comprehensive line of energy-efficient lighting that can be used alongside other commercial applications and technologies. From precision lighting for officers or classrooms to task lighting for hospitals, this brand has a solution for every type of business.
nLight: nLight offers a lighting system that can be controlled wirelessly through smart devices.
LED Conversion
Looking to update your business's lighting system to LEDs? The electrical contractors at E-MC Electrical can help! We offer comprehensive LED conversions that are geared towards saving your business money by reducing your energy consumption and costs. It also aids in increasing worker production by creating a clearer light for your workers to see. We offer the following:
Interior LED Lighting Solutions
Exterior LED Lighting Solutions
Architectural LED Lighting Solutions
RGB LED Lighting Solutions
Lighting Design
Every business is unique and requires a different approach to lighting. Whether it is a manufacturing plant or a doctor's office, the type of lighting and systems your business needs will vary. You want a team of qualified electricians to ensure that your lighting design is designed to ensure that your business is set up for success. We accomplish this by sitting down with you to go over your business's needs. Once we have a better understanding, we come up with a design and then install it using the best equipment on the market.
Lighting Controls
Lighting controls for your commercial business help you save energy and money by giving you the power to automatically turn lights off when they are not needed. It can also reduce light levels so they are not at full brightness when not necessary and provide you full control over your lighting system.
Lighting Solutions
E-MC Electrical provides high-quality lighting products and services to ensure that your business is operating at its best. From helping to highlight your products, and investing in the productivity and health of your employees, to reducing your business's energy costs, our electricians have lighting solutions for every type of business. Contact us today for more information or to schedule an appointment with our team.