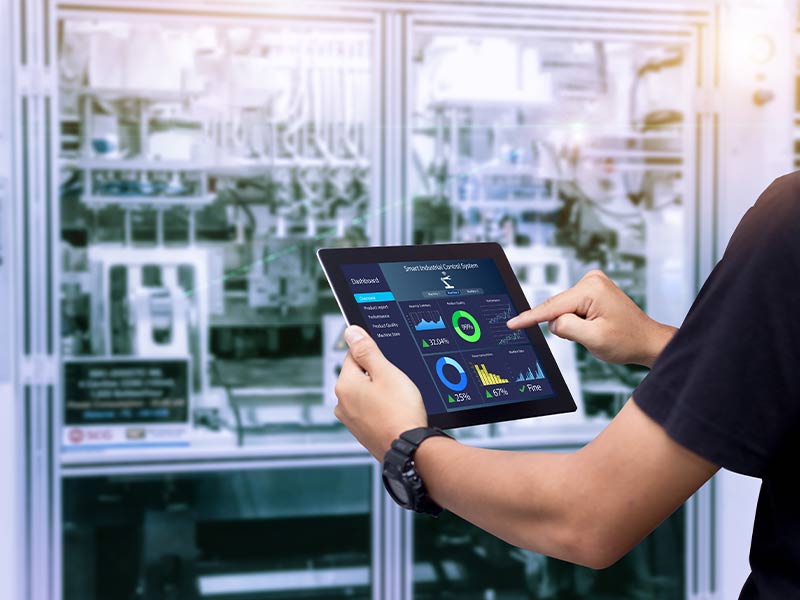 Building Automation Systems
Create better energy efficiency and comfort for your commercial building with E-MC Electrical's building automation system services. Our electricians put the control of your building's systems, such as lights and HVAC, at the power of your hands by connecting it all through a networked electronic device. If you are ready to streamline your decision-making process and get control over your building's most essential systems, then you need to call E-MC Electrical. Here is what you can expect from our building automation services.
What Is a Building Automation System?
A building automation system (BAS), also known as a building management system, is a system that controls electric, electronic, and mechanical systems throughout a building. This is done through a distributed control system that integrates the different types of building systems into one centralized location. This allows a user to control heating, ventilation, air conditioning, lighting, security, and other systems that may be in use from a smartphone or other network-connected device.
It also provides live, up-to-date information on the system and allows the user to adjust usage from their phone, giving building owners or managers more control over how their investment for these systems is spent.
Increase Safety and Efficiency With Building Automation and Controls
Between 2010 and 2021, energy usage in commercial buildings across the United States has increased. Today, 30% of all global energy is being used by buildings. In the United States, 35% of all electricity usage is consumed by buildings, both commercial and residential. The biggest draw of this energy is from air conditioning units.
Unfortunately, the sad reality is that 50% of this energy usage is wasted due to inefficient building management systems. That is why having a building automation system in place is so important.
Studies have shown that building automation systems have aided in businesses saving money by reducing the amount of wasted energy in their buildings. This amount of savings varies depending on the business type and what the business does, but the average savings was 30% or higher.
How Can a Building Automation System Make My Building Safer and More Energy Efficient?
A building automation system can aid in creating a safer and more energy-efficient environment through the following ways:
Allowing for control over various systems throughout a commercial building to reduce the risk of human error. Systems regarding:

Fire and flood safety
HVAC
Security
Electricity
Larger Building Equipment

Providing a channel for fail-safe mechanisms to successfully come online when there is a power outage or mechanical failure.
Improving the efficiency of other systems within a building due to its live monitoring capabilities.
Having an energy management system that aids in reducing energy consumption and aids in reducing operating expenses of the various systems involved.
Extending the life expectancy of various utilities, such as HVAC, and aids in reducing the need for expensive repairs.
Providing a consistent level of comfort for occupants of your building.
Having the capability to perform security measures, such as lockouts, to ensure that machinery doesn't turn on when it is not supposed to.
Can run diagnostics to monitor temperature, pressure, flows, etc. over your systems.
Building Automation and Energy Management
E-MC Electirc's building automation & controls division possesses over 25 years of direct digital controls (DDC) experience and has a proven track record of excellence. Our company offers a full spectrum of HVAC automation and control solutions to optimize building performance and maintain a comfortable indoor environment.
Our electricians utilize the latest industry-leading monitoring, measuring, and control hardware, including sensors, indicators, transmitters, switches, data loggers, controllers, and meters from top manufacturers such as the following:
E-MC Electrical is also proud to have an in-house graphics design team that is proficient at tailoring web-based user interfaces and monitoring dashboards for our client's specific preferences. We are capable of completing every phase of the building automation design, fabrication, installation, wiring, programming, and commissioning. This allows us to better serve our client's unique needs, ensuring that their BAS works the way they need it to.
Our Partnership With Various Building Technologies Companies
Our electricians are also certified on Tridium management systems, and we have a UL-listed control panel fabrication shop on premises to ensure quality hardware production.
In addition to being certified with Tridium's Niagara systems integrator, E-MC Electrical is also a certified Tridium R2 and AX Framework Developer, possessing the capabilities to custom-design unique BAS solutions.
What Systems Can Be Controlled By a Building Automation System?
There is a wide range of systems that can be integrated into your building automation system. These are as follows:
HVAC systems
Lighting systems
Security systems
Ventilation and air purification systems
Air handlers
Sterilizing and sanitizing systems
Sustained environments
What Are the Benefits of Building Automation Systems?
There is a wide range of benefits that you can expect from investing in a building automation system for your commercial building. Here are some ways that different businesses can benefit from a BAS:
Facility managers can benefit greatly from a BAS by getting a better handle on energy losses and inefficiencies. Once they can recognize where the problem areas are, they can take better steps to reinforce these systems and save the facility a ton of money.
Business owners can benefit from the energy-saving capabilities of a BAS. They aid in making HVAC equipment and other building systems more efficient, allowing the stress on the equipment to be lowered, therefore extending their lifespan. Without having to pay for costly repairs and having their energy usage lowered, business owners can reinvest those savings back into their staff and their business.
Property managers can manage the security systems, lighting, and HVAC systems from one place, ensuring that everything is running smoothly and that anything that might seem off gets addressed quickly.
Keep Your Systems Information All In One Place
Maximize the use of your equipment and control all of your business's systems in one place with a building automation system solution from E-MC Electrical. Our electricians work with you every step of the way, taking the time to learn your business's unique needs and ensuring that your BAS is custom-built to ensure that you see a return on your investment. With over 25 years of experience under our belt, you can rest assured that your business is in good hands. Contact us today for more information on our BAS services or to schedule an appointment to go over your building's automation system.