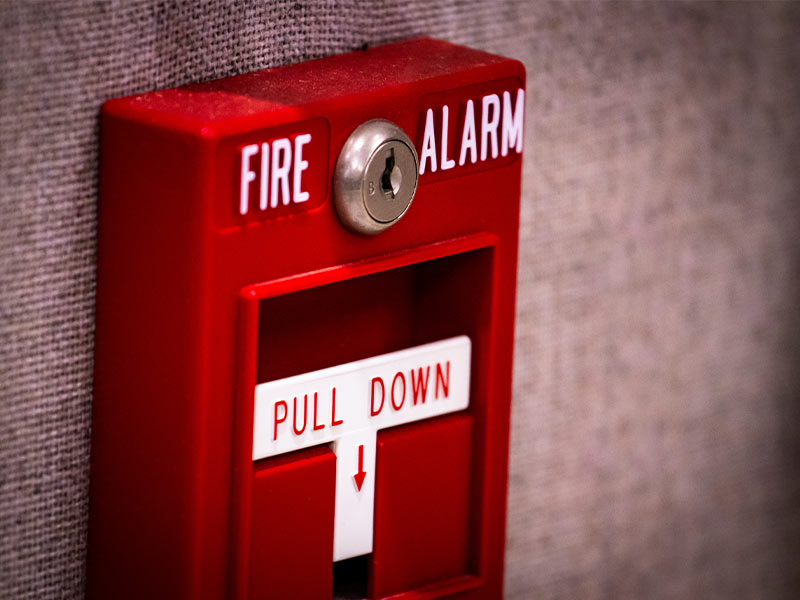 Fire Protection Services
Safety is a top priority for all businesses. It can mean the difference between life and death for your customers and employees. E-MC Electrical provides unparalleled fire protection services that are designed to prepare your building for a disaster while protecting your assets and keeping individuals safe. We offer professional installation, inspection, maintenance, and repair services for your fire protection devices to keep you and your business ready for any emergency.
Fire Protection Services Offered
Our decades-long dedication to providing exceptional fire detection and alarm products and services to commercial, public, private, and government institutions in the state of Texas has made our fire alarm division a cornerstone of E-MC. We offer the following fire protection services:
Fire Alarm Systems
No matter what type of business you run, whether it is a hospital or office building, a working fire alarm can reduce the amount of damage your building receives in a fire and save the lives of those in your building. A fire alarm alerts individuals in the building to danger, allowing them to evacuate swiftly and safely while notifying emergency services.
It is essential that all businesses have working fire alarm systems that are regularly maintained and tested to ensure that they are working properly at all times. No one knows when a disaster is going to strike, don't get caught unaware, and instead, invest in fire alarm installation or maintenance services today!
Alarm Monitoring
E-MC Electrical offers 24-hour protection through our fire alarm monitoring services. Fire alarms sense and alert occupants, but it is the monitoring service that responds to the alarm events by contacting local authorities in the event of a fire. Our monitoring services also notify us if the system fails so that we can dispatch one of our 24-hour service representatives to correct the problem to minimize the risk to our facility and its occupants. Our third party UL Listed monitoring centers have dedicated fiber-optic telecommunications for fast, reliable alarm signaling, numbers are dialed automatically, a computer history is logged, and monitoring staff activities are time and date stamped. By using advanced technology alongside a highly trained staff, E-MC Electrical provides you with superior response times.
Mass Notification Systems
Mass notification systems are a security measure that broadcasts real-time alerts and information to a large number of individuals through text, call, email, and emergency broadcasts. This is an essential system for all large businesses to have, as it can quickly alert individuals to potential threats and direct them on how to respond safely. E-MC Electrical can help you design and set up a Mass Notification system for your business to better protect your employees and customers.
Invest in the Safety of Your Employees and the Safety of Your Building Through E-MC Electrical Fire Protection Services
At E-MC Electrical, we have over a decade of experience installing and servicing fire protection devices to better protect and prepare your building for an emergency. From prompt and reliable maintenance to ensuring that your building is meeting all fire safety codes, E-MC Electrical is in Dallas / Fort Worth, Texas, and the following areas go-to resource. Contact our team today for more information on our services or to schedule an appointment with our team!